Art has a lot of power. It's all around us, providing a sense of well-being and enjoyment to everyone, including seniors. It makes no difference whether a senior suffers from chronic pain, has memory problems, or is simply bored due to inactivity. Art therapy has numerous advantages for seniors looking for more enriching activities.
Arts & crafts are not only fun but are pretty easy to organize, especially in senior living communities. It's a great way to bring community members together to make friends and learn a new skill.
#1 Mental & Physical Stimulation
Seniors require more mental and physical stimulation than younger adults. This will help to prevent cognitive decline caused by diseases like Alzheimer's and dementia, as well as improve overall health and happiness.
Participating in creative activities improves focus and concentration. It's an excellent way to exercise and stimulate the brain by engaging in new activities.
This is a simple form of therapy, but it can be very effective for seniors, especially those with Alzheimer's or dementia. It facilitates nonverbal communication by allowing for more visual and sensory expression. It also contributes to one's overall well-being.
Older adults can paint an entire portrait, make a scrapbook, design a family photo album, draw, and so on while sitting in a chair or in any position that is comfortable for them. Art could be a great way for them to express themselves.
#2 Reducing Negative Emotions
Social isolation and depression are very common among the elderly. Thus, one of the primary benefits of art and craft is that it can provide seniors with a sense of happiness while also improving their overall well-being.
Seniors who participate in activities such as art and craft have something to look forward to every day. This gives them a sense of accomplishment while also adding a lot of fun and excitement to their lives.
In addition to the enjoyment it provides, creating art has several health benefits. It can aid in the reduction of negative emotions and stress.
According to research, art therapy can help senior adults communicate more effectively. It can also help with depression and anxiety symptoms. Individuals with dementia or Alzheimer's disease have made progress by participating in art and craft activities.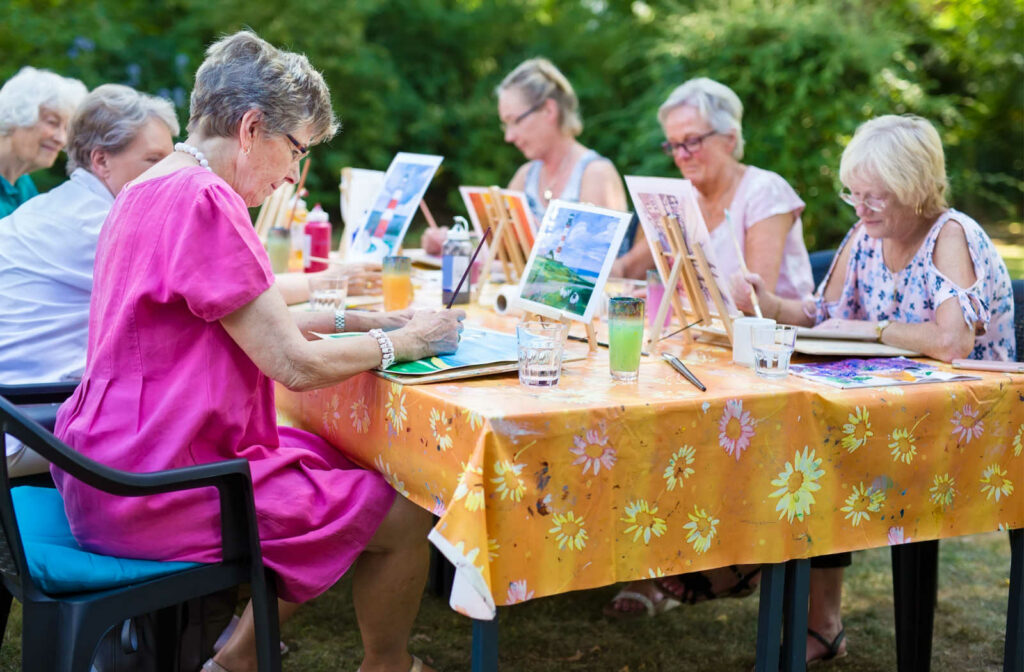 #3 More Social Interaction
We may become isolated as we age due to a loss of social connections, such as friends, family, and the workplace. Participating in group arts and crafts reduces loneliness and isolation and fosters a stronger sense of community.
Encourage your loved one to join art and painting groups if they live in a senior living community—these are a great way for them to meet other residents! Those who are interested in developing their creative sides, in particular.
#4 Improves Cognitive Function
Another significant advantage of art and crafts is that it allows older adults to be free and creative. Participating in such activities fosters innovative thinking and can help improve cognitive health.
Visual arts, according to scientists, help seniors with cognitive decline because they can involve: planning, making decisions related to the piece, thinking outside the box, talking about the artwork, relationship building, reflecting on past experiences, and coming to resolutions. These all contribute to cognitive stimulation.
#5 Personal Growth
Aging is often accompanied by a sense of purposelessness. Older adults could have retired from a full-time job. They no longer have children or a household to maintain. They may be unwilling or unable to pursue educational and technical activities.
A new craft hobby can provide the same sense of accomplishment and personal development. Their skill level will improve if they regularly practice their art or craft. This helps them reclaim their sense of progress and growth in their lives.
Many adults put aside childhood interests as they advance in their careers or care for children. They simply do not have the necessary time. Creative workshops in senior living communities can assist in continuing where seniors left off creatively, possibly decades ago!
You can provide your loved one with a variety of creative activities. They are not, contrary to popular belief, limited to painting and drawing. Consider having a book club, creative writing, ceramics, knitting, quilting, sewing, collaging, and so on. Seniors can even attend or organize regular clubs around some of the activities they enjoy, depending on the number of participants and level of interest.
Enrichment at The Villages of Farragut
These are some of the most significant and significant advantages of art and craft for the elderly. Although it may appear to be a straightforward task, art and craft activities allow seniors to freely think, interact, and create. Happy seniors who live fulfilling lives can expect to live better and longer lives.
All you need is a desire to learn more. There are numerous ways to interact with art in a senior living community dedicated to our community members, such as The Villages of Farragut.
If you're interested in learning about our enrichment activities, or have any other questions about our senior living community, give us a call today.