Many seniors worry about how to make friends when moving into an independent living community. Making friends was always second nature when we were children, but as adults, we have a harder time making those connections.
Numerous studies have found that social isolation or loneliness can impair cognitive function. A study on Social and Emotional Aging discovered that older adults with strong social networks and high levels of social activity are less likely to experience declines in cognitive functioning than their less socially engaged peers.
Thankfully, there are many ways for you to continue making new friends well into seniorhood. You might have more time now that you're retired from your career, why not fill that extra time with some fun activities to widen your circle of friends?
Here are some ideas to get you started, but don't limit yourself! There are tons of things you can do as a senior to get out there and meet new people.
Get Out in Your Community
The best way to make new friends is to get out and do activities that you enjoy. The bonus is you will meet other people who enjoy doing similar things! These common interests are a great ice breaker if you're a little more nervous to put yourself out there.
Volunteer for your favorite charity
Walk through your neighborhood and say hello to anyone you meet
Join a book, TV, or movie club
Join a group for any activities you enjoy. Examples include card games, cooking, and gardening.
Join some exercise programs such as swimming. Get fit and make friends, what a bonus!
Take a class. Lots of local universities offer senior discounts, you're never too old to stop learning
Play a sport such as bocce ball, golf or bowling
Attend your church
Support groups. These groups are a great way to feel supported if you're transitioning to new changes in your life. It can be a wonderful feeling to realize you're not alone
Join a supper club. If you love to cook or bake, this is a perfect way to try new foods and get new recipes.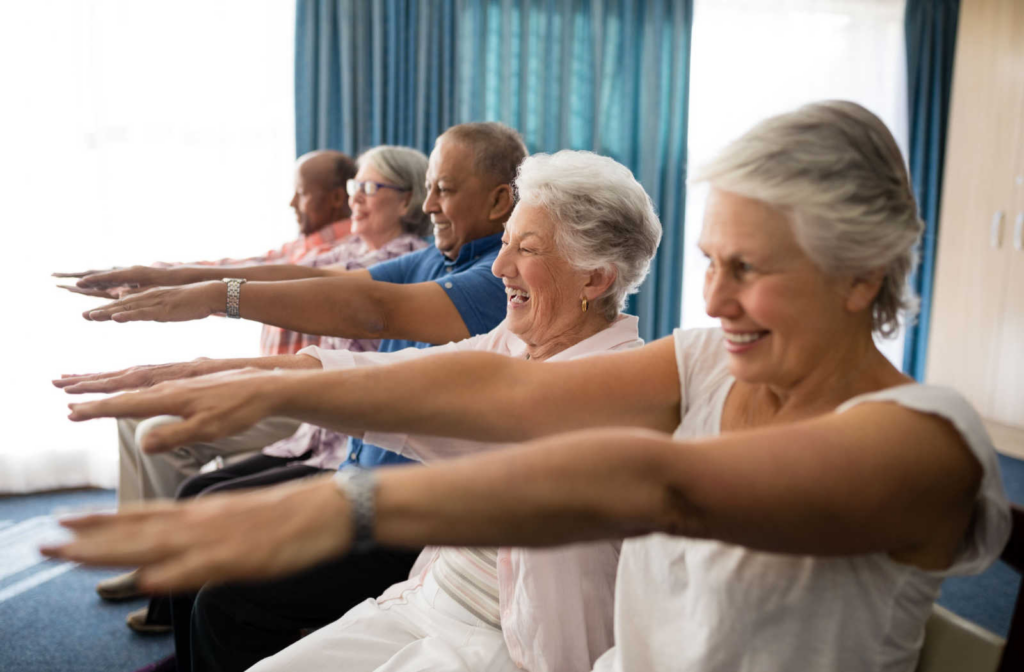 Making Friends in Independent Living Communities
If you're feeling a little bit apprehensive about getting out in your community, that's okay! Staying close to home can be a little less intimidating. There are still many options and activities in independent living communities like The Villages of Farragut to do that will have you making friends in no time.
Group Activities
Seniors can choose from a wide variety of group activities at most senior living communities, including yoga or morning stretch classes, arts and crafts, happy hours, educational seminars, museum excursions, and more.
Try it out even if it's not something you're particularly interested in. The chance to interact with others is more significant than the activity. You'll be able to invite your new friends to activities that interest you as you make more friends.
Meal Times
What better way to make friends than over a delicious meal? Going to the dining room is a great way to meet new people. Many senior living communities will assign residents to specific tables or seat them in groups as they arrive to ensure that no one sits alone.
As you chat with your dinner mates, you may discover that you have a lot in common.
New Residents
You won't be the new person for very long, chances are others are looking for guidance on how to make friends and what the best activities are as well. Meet someone else who's newer to your community and bond together while you discover all of the things it has to offer.
Bring a Friend
No one says you have to experience all of this alone! Bring a friend or family member with you for support on some activities until you meet some friendly faces and are comfortable doing it on your own. A plus one is great for helping start new conversations and meeting new people.
Similar Interests
Similar to finding people with similar interests outside of your independent living community, you can do the same inside it. Many communities have clubs, activities, and games you can play with other members to help you form some new friendships.
If there isn't a club with something you enjoy, start your own! Most likely there are other people who enjoy the same thing you do but are too shy to start their own club.
Enjoy Every Moment
The hardest part about making friends as a senior citizen is putting yourself out there. Take comfort in knowing you aren't the only one nervous about making friends. If you would like to learn about the social life, activities, and lifestyle at the Villages of Farragut, we would love to chat with you. Contact us today and learn how we can help you get out and get social.