Independent living is a great way to join a community and meet new people while receiving a minor amount of help in daily activities. The Villages of Farragut offers a safe and convenient way of life to our residents that include a variety of different activities, amenities, and services. If you are unsure if our community will be safe for you or a loved one to live in, please contact us — our friendly staff can help answer any questions or concerns you have about independent living.
What is Independent Living?
Independent living communities are residencies designed to offer self-reliant seniors a place to live and socialize while providing access to certain amenities that can make daily living more convenient. Generally, these types of facilities do not offer any care services and are focused on offering a community to engage with while escaping the need for performing home maintenance.
The Villages of Farragut offers amenities and services to ensure that residents experience a comfortable and convenient living environment. Some of the amenities and services we provide include:
The Admiral Farragut Community Room

A salon

A fitness room

Sun rooms

Granite countertops

Full-size refrigerators

Medication management

Housekeeping services

On-site care & personal support

Culinary team

Registered dietician

Restaurant-style dining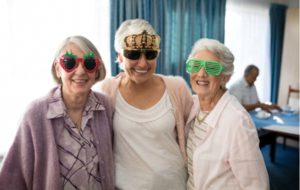 Is Independent Living Safe for Seniors?
If you are unsure if independent living is safe to pursue, or you are unsure if independent living is right for you or a loved one's specific needs, consider the following before deciding to become a resident.
Is it Difficult For You to Make Connections?
Living in isolation can increase the risk of depression and other mental health issues. If you or a loved one have difficulty getting out of the house due to lack of transportation, mobility issues, or the neighborhood being hard to access, it may be of great benefit to become a resident of an independent living community. The Villages of Farragut provides an environment where you or a loved one will be able to connect with a network of similar individuals and also offers social activities to participate in while meeting new people.
Do You Have Access to Transportation?
You or your loved one may currently live in an area that is hard to access — this means that driving to social events, meeting up with friends/family, and running errands can sometimes be difficult. It may also mean that public transportation becomes a much more prevalent aspect of your or your loved one's daily life, which can become a source of stress. It may be safer and more convenient to live in an independent living community when your or your loved one's current residence makes it difficult to get around.
The Villages of Farragut offers transportation services to our residents so they can get to where they need to go with no hassle.
How is Your General Health and Wellness?
Examining your or your loved one's current and future state of health can help illuminate whether or not independent living is a viable option. If you need help with many daily activities or require personal care services, an independent living community may not provide the help you need; if you or your loved one are only looking for help with housework and other non-care related activities, and want to retain a greater level of independence in daily life, an independent living community can be a fantastic solution to senior housing problems.
How to Know if Independent Living is Right For You
If you are considering senior living options for you or a loved one, it is important to take some time to consider what type of community will be the best fit. People who will benefit most from independent living are:
Those who do not need assistance with activities of daily living (e.g. bathing, dressing, and medication management)

Those who do not need medical assistance regularly

Those who want assistance with cooking and home maintenance, but do not want to give up their independent lifestyle

Those who live alone or feel isolated

Those who are retired and want to live a more relaxed, convenient lifestyle

Those who will feel more at ease with a 24-hour staff who can quickly provide help if needed