Aging in place is ideal for many older adults, but factors like medical needs, socialization, and memory loss can get in the way. As we age, our care needs fluctuate and we may require more support.
A continuing care retirement community helps seniors find the right balance of independence and care.
Senior living communities are filled with older adults in a similar stage of life. Being part of an established community of like-minded people can be comfortable and helpful as we grow older. Continuing care retirement communities offer seniors an opportunity to experience different levels of care within the same setting.
A familiar community can significantly minimize stress throughout the later stages of life, and help cement bonds with staff members and other residents.
Common levels of care include:
Independent Living:

Independent living is for active, healthy older adults who want to enjoy curated amenities and maintenance-free benefits while living without assistance in their residence.
You may be an excellent fit for independent living if you have little-to-no support needs, and prefer a "hands-off" level of care.
Assisted Living:

Assisted living is for those who need a little more support in their day-to-day lives.
As care needs increase, assisted living provides 24/7 access to medical care and personal support. Residents are encouraged to be independent, while receiving help with the activities of daily living, like hygiene, dressing, and medications.
Memory Care:

Memory care is a specialized facility for seniors struggling with memory loss related to

dementia

, or

Alzheimer's disease

. Compassionate and experienced staff provide personalized care to ensure residents are comfortable, active, and safe.
A memory care facility provides more structure and round-the-clock care to help maintain cognitive functions.
If you're unsure of the correct level of care, a senior needs assessment can help you decide.
Easier Transitions
Continuing care retirement communities are beneficial to older adults who do not want to move later in life. Transitions to different areas may occur due to changing levels of care, but residents ultimately remain within the same community.
Older adults can thrive in an independent living neighborhood, where they maintain their usual hobbies, routines, and interests, while taking advantage of support when required.
When household chores, yard work, and other tasks become more challenging, it may be time to consider transitioning to the assisted living neighborhood within their chosen facility.
Transitioning to the next level of care feels more natural; it's simply a move into a different area of the same community. Residents can feel comfortable surrounded by the same faces, and all the amenities and activities they already enjoy.
If needed, seniors who develop memory loss or Alzheimer's disease can move to the memory care neighborhood to receive additional support and care. Residents who transition into memory care maintain the same great quality of life, and remain in a familiar facility.
Continuing care retirement communities often offer personalized services and specialized treatment in their memory care neighborhoods to ensure the highest level of care.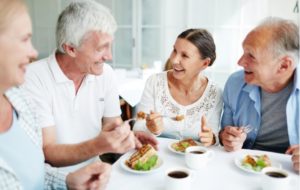 Hand-Picked Lifestyle Options
When considering a continuing care retirement community, look into their available services, amenities, and costs. Senior living communities often pride themselves on being customizable, so amenities and living spaces can vary from property to property.
As an example, here are some amenities offered in the independent living neighborhood at The Villages of Farragut:
Spacious suites with sunrooms or screened porches

Full kitchens with granite countertops

10-foot ceilings

Ground-level patios

Wraparound balconies

A garden cafe

Bistro dining

Club dining

Outdoor courtyard

Putting green

Spa

Billiards

Community room

Salon

Fitness room
Residents in a continuing care retirement community can take advantage of a wide variety of curated amenities, designed with older adults in mind.
Do Your Research
Thorough research will help you determine if this type of community matches your desired retirement lifestyle and budget. It's essential to consider these crucial factors when visiting a potential community:
Community staff:

Pay attention to the general mood of the employees. Do they seem content? Overwhelmed? Qualified?

Monthly cost:

Most senior living communities include amenities in the monthly price. Will this community fit within your budget?

Community culture:

Does the atmosphere of the facility agree with your personality?

Amenities:

Do the activities and services offered match your interests?

Security:

Are you safe in your residence and on community property?
Knowing what you are looking for in a continuing care retirement community will help determine if the facility is a good match.
Growing Together
If you're an older adult wondering about senior living options, consider The Villages of Farragut.
We're a locally-owned community committed to excellence in senior living, offer competitive pricing, and are tremendous supporters of aging in place; we help our residents avoid difficult transitions to a new facility when more support and care is needed.
Grow with us as we expand our current community to include a specialized assisted living facility, a memory care neighborhood, and independent living villas
Contact one of our committed and knowledgeable staff members today for more information about continuing care retirement communities. We're always ready to help!