Finding an independent living community may feel like a humongous task. With so many senior living options, it's tricky to decide which is right for you. How do the amenities stack up? What services are offered? What's the overall community feeling?
To ease your mind, we've laid out answers to some of the common concerns that come up when you're beginning to explore independent living—let's dive in.
What Is Independent Living?
Independent living is a type of senior community geared towards older adults who can still perform daily tasks and don't have significant medical needs. Seniors who enjoy a relaxed, easy, and sociable lifestyle are often drawn to independent living communities.
What Is the Difference Between Assisted Living & Independent Living?
Assisted living is a type of senior living community designed for seniors who need aid with activities of daily living, such as:
Grooming

Dressing

Mobility

Eating
Generally, assisted living communities have a care team available 24/7. They tend to have more services dedicated solely to assisting with daily tasks than an independent living community does.
Independent living and assisted living have plenty in common, as well. They both offer seniors a safe and secure home geared towards a healthy, active, and well-rounded lifestyle.
Why is Independent Living Important?
We humans are a social species, so there's no way to overstress the importance of community. We thrive on making meaningful connections with others.
It's especially critical that we stay connected as we age. Studies show that positive social interaction and community building can help slow dementia or cognitive decline. Living independently, but in a community designed to meet your needs, may lead to increased wellness.
Independent living also allows you age-in-place with ease. Gone are the days when people would wait until a serious medical need would be the only thing to prompt a move to a senior living community. Many people choose to enjoy the amenities and services offered earlier on in their senior years and get settled comfortably into a community where they know increased care options will be available when they need them.
What Are the Types of Independent Living Facilities?
Independent living communities are sometimes referred to by different names, including:
Retirement communities

Age-restricted communities (55+, 65+, etc)

Active adult communities

Senior living communities
The facilities you usually hear about are apartment-style communities or communities made up of small houses or villas.
Apartment-style independent living communities are often one larger building with multiple floors. The buildings are comprised of individual, private suites of different sizes and shared common areas designed for comfortable socializing.
Villas are smaller, independent houses. They usually share a campus with common buildings used for games, events, activities, and recreation.
Is Independent Living Right for Me?
There are many factors to consider when deciding if the time is right to transition into independent living.
Home Safety
Feeling safe in your home is a critical part of a secure and comfortable lifestyle. Unsafe feelings in the home can arise from concerns about accessibility and mobility. For example, if your home has steep outdoor steps that are difficult to navigate or become slick when wet, you may feel unsafe entering or leaving your home. There are also potential worries about security, including the risk of burglaries and scams.
Independent living offers protection and peace of mind through things like:
Inconspicuous security systems

Campuses designed and maintained for ease of mobility

A community full of neighbors
Feel safe in your home with independent living.
Social Interaction & Emotional Support
In an independent living community, your neighbors will likely be in a similar life stage to you. Friendship and emotional support are always within reach. Communities often partner with the broader community for programming that offers opportunities for spiritual guidance, connection, volunteer service, and fellowship, as well.
Healthy Living
Keeping healthy and maintaining mobility and fitness is within reach with independent living. Many communities have dietitians and professional culinary staff on hand to offer delicious, nutritious dining options.
An active lifestyle and independent living also go hand in hand. Take advantage of exercise classes and fitness facilities right on-site.
Independent living communities provide the space and amenities that allow their residents to enrich all areas of their health: physical, emotional, mental, social, and spiritual.
Financial Security
Budgeting is a breeze when you can roll many living costs into your payments at an independent living community. There are no surprise home maintenance costs when your home is maintained by professionals. Keep your finances in good shape through independent living.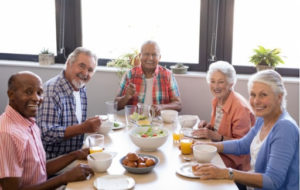 How to Choose an Independent Living Community
Activities
Are you an avid gardener? Love to stay active? Devoted to your spirituality? Card playing fanatic? Find an independent living community that has the activities and services that suit your lifestyle. This will allow you access to your favorite hobbies and activities right outside your door, and other community members will likely share your interests.
Take a look at a potential community's calendar of events to see what a typical week might look like there. Remember, joining in on events is entirely your choice. Take in all the fun, or spend a quiet day reading in your sunroom, depending on your mood.
Services
Note what services are must-haves or wants for you. If you're looking for housekeeping, laundry, medication management, dining options, or healthcare providers like a dietitian or nursing practitioner on staff, make sure the community meets those needs! Some communities charge extra fees for certain services, too, so ensure you know what the cost includes.
Size & Location
Independent living suites come in a variety of sizes. Some communities offer apartment-style accommodations, with studio, 1 bedroom, and 2 bedroom options. Others offer townhouses or villas, which may have small yards and garages.
If you like to entertain, having a room for guests—either in your own private suite or by accessing a guest suite within the community—may be important to you! Take a peek through the community's floorplans to make sure the space available suits your needs.
The location of the independent living community in question is also a factor. Are you hoping to be near family? Stay close to the community and area you currently live in? Are you hoping for a change in scenery or climate? Knowing what you want will help you find an independent living community that ticks all your boxes.
Tips for Making the Transition
Moving is always a big task, and the job of choosing an independent community can seem daunting. Ease the stress by following these simple tips:
When it comes to services and amenities, make a list of your needs, wants, and nice-to-haves. This will help you narrow down to a community that suits you just right.

Have your budget in mind. Knowing how much you can spend on your living arrangements will keep your finances on the right track.

Think about the location that would best fit your lifestyle. Big city, or small town? Near family? Close to nature?
And remember: when you're exploring the ins and outs of independent living, don't be afraid to reach out to a community you're interested in. The best way to learn about any community is to contact them directly with any questions you may have.